Bloodstock Open Air
11-14th August 2011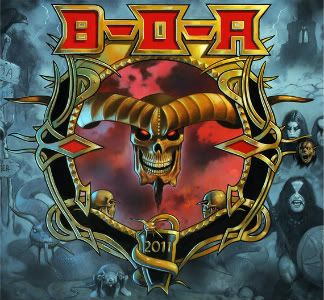 Sunday
After abusing way too much Hobgoblin the night before, it is up to the hugely influential (and slightly deranged) Hell. They add an element of theatrics to the weekend and are gloriously over the top, which is the perfect tonic for the final day of Bloodstock.
Then comes a chill in the air as 1349 take to the stage amidst a cloud of eerie smoke. With drummer Frost absent and a shaky sound, their set doesn't get off to a great start. The vocals are pitched too low, and the only sounds come from the drums and guitars. It takes a couple of songs for 1349 to get going, but when they do they put on a thunderous performance and end up being one of the stronger bands of the weekend.
Next up is Irish black metallers Primordial who don't seem to be having the best luck. First of all their drum sound is mixed far too loud and then vocalist Alan Averill frustratingly losing his voice early on in their set. But such is the dedication to their fans, Primordial continue without any vocals and instead enlist the help of the crowd to fill in. Primordial, despite all their problems, have pulled off a set which shows the spirit of metal and relentless dedication these guys have to their band. Needless to say they received possibly the biggest cheer of the weekend.
Napalm Death
are one of those bands that every metal head must see at least once in their life. The fact that a grindcore band is playing to 12,000 people on the main stage of a festival is a testament to their popularity. Despite being yet another band who suffer from sound gremlins, once these issues are solved they pummel Bloodstock into submission. Front man Barney Greenway is as entertaining as ever, running around the stage like a loon whilst seemingly swatting invisible flies with his arms. Napalm Death provide the crowd with the opportunity to completely lose it.
After the storming performance by Exodus, it is clear that At The Gates have a tough act to follow. The last time they appeared at Bloodstock in 2008 was an outright triumph, so ATG have a lot to prove. However, we need not worry as they put on one of the best shows of the weekend. The crowd which has amassed since the previous act is akin to that of a headliner, and there seem to be more circle pits during their set than at the entire weekend put together!
After the pummelling ATG gave us, we head over to the Sophie stage for the Eurovision metal that is Amaranthe. An odd choice for Bloodstock, particularly on the more extreme Sophie stage and they seem to be placed rather high up the bill. With an already saturation female-fronted metal genre, Amaranthe do not seem to fit in. Their blend of pop and gothic tinged metal feels out of place, which coupled with the fact they have three singers (that's right, three) makes for a rather chaotic set. The vocals are mixed far too loud, and do the bad kind of damage to our ears.
Morbid Angel
are a band who are not afraid to divide opinion these days and rightly so. Their latest effort was either a triumph or a failure (for VDOM it was the latter), but despite this they are a greatly respected band who crush and destroy wherever they go. Today's co-headliner slot at Bloodstock is no exception, and it is clear from the beginning of their first note that the crowd are completely lost in the brutality. Their 'classics' are met with reverent appreciation, whilst outings from their new album including 'Existo Vulgare' fall flat with the vast majority of the crowd, despite the tracks sounding better live than on record. Even during the anthem-like 'I Am Morbid' the crowd reaction doesn't seem much better, and it isn't until they launch into their back catalogue that the crowd picks up. This performance reminds up why Morbid Angel continue to be such a formidable force.
Motorhead
are a metal institution, and have been around since the dawn of time. Their longevity and spirit is down to, in no small part, to the wisdom and spirit of Lemmy Kilmister. He is, and always will be, the embodiment of heavy metal. Having survived for most of his adult life on JD and Cokes, you can always count on Lemmy for a good time. However, of late, Motorhead seem to have slowed down and lost some of their spark. Their rather flat performance at Sonisphere could be attributed to the very recent death of former guitarist 'Michael 'Wurzel' Burston.
It could be this which explains their lack of presence on stage tonight. From opener 'Iron Fist' they seem to be on autopilot; they just don't seem like Motorhead. This coupled with Lemmy retreating offstage for several minutes before returning with no explanation makes for a rather flat end to what has been an amazing weekend. Let's hope they return to form, and soon!