Bloodstock Open Air
11-14th August 2011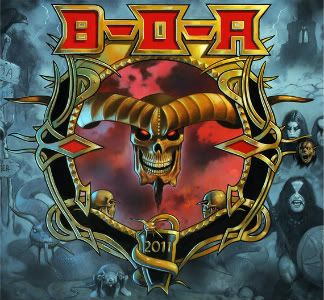 Thursday
After spending the best part of an hour chasing our tent half way round Midgard, thanks to gale force winds, we are finally ready to experience the aural assault that is Xerath. It is difficult to see why, after the major success of their second album 'II', that Xerath are on the small Sophie stage let alone being relegated to a Thursday night slot. 'II' was a triumph and a turning point for the band; it made the metal public sit up and take notice of a promising band refusing to be 'lumped' into the much lauded 'Djent' genre. A fifteen minute delay, caused by yet more technical issues this time with the drum mics, make the air seem a little tense. However, with a packed tent, a baying crowd and a fist full of metal, Xerath roar into life. The pounding rifts, booming bass and soaring classical elements send just one message to the Bloodstock organisers – "MAIN STAGE NEXT YEAR"!
Day 1 – Friday
Dubbing themselves 'middle finger metal' The Defiled seem to be, on paper at least, an enjoyable act to open the festivities. However, apart from a few hardcore fans (sorry to say, mainly screeching girls) they do nothing to excite the majority of the early risers. An explanation for this flat performance is offered when keyboardist The AvD announces he's had numerous White Russians and 'then it goes illegal'.
So it is up to Wolf to inject some much needed energy and party atmosphere to the proceedings, which they do and then some. Despite having numerous sound issues (a grievance which would hinder many performances this weekend), they are clearly having a good time which translates to the crowd.
Bloodstock are a festival of 'firsts', and none more so than Poisonblack's first ever UK performance. Hailing from the mighty Finland, and unfairly compared to HIM, they receive an incredibly positive reaction despite being near unknowns on these shores. When they finally leave the stage after a blistering set, the majority are fans are asking the same question – "When's the UK tour?"
Over in the Sophie stage there is an ungodly noise being provided by Glaswegian Grindcore nutters Cerebral Bore. Their set turns out to be the surprise of the weekend, the brutal and unforgiving sound goes down a treat and the Sophie tent is packed to bursting point. Stopping towards the end of their set to throw muffins into the crowd to 80's dance music isn't something you'd expect, but Cerebral Bore prove they are full of surprises.
After the frenzy of Cerebral Bore, we move to the dark and solemn place that is Tom G Warriors latest venture; Triptykon. The man is such a legend within metal that he seems to summon the cloud and rain. With only four songs on their set list, two of which are the amazing Celtic Frost covers (Procreation and Circle of the Tyrants), Triptykon engage the audience with their brooding, and prog infused melancholy.
If Triptykon left you in a trance, then it is up to the 'Rush of thrash' Coroner to rouse you. With their groove laden guitars and their obvious enjoyment, Coroner manage to get even the hardcore metallers dancing along with thrashers Kreator.
Seeing The Devin Townsend Project is an experience i urge everyone to have at least once. Every show is a feast of madness, metal and nerds, with a bit of Ziltoid thrown in. After the debacle of last year's appearance, where he was forced to do only a 20 minute set due to half of their equipment not turning up, it was time for Devin Townsend to show Bloodstock what he is made of. And boy does he do it! Devin is a true showman, who's only home seems to be up on stage. Gurning his way through his latest opus 'Deconstruction' to the 'never before played' Vampira, The Devin Townsend Project are a force to be reckoned with. If you haven't got your tickets for his November shows, then what are you waiting for?!
With The Devin Townsend Project being a hard act to follow, W.A.S.P seem to really step up a gear and turn out to be the most successful headliner of the weekend. They play a tight, enjoyable set which demolishes the crowd and is a fitting end to an intense first day at Bloodstock 2011.
Buy your tickets for Bloodstock 2012 and get roll back prices!